Are you worried about dividend cuts?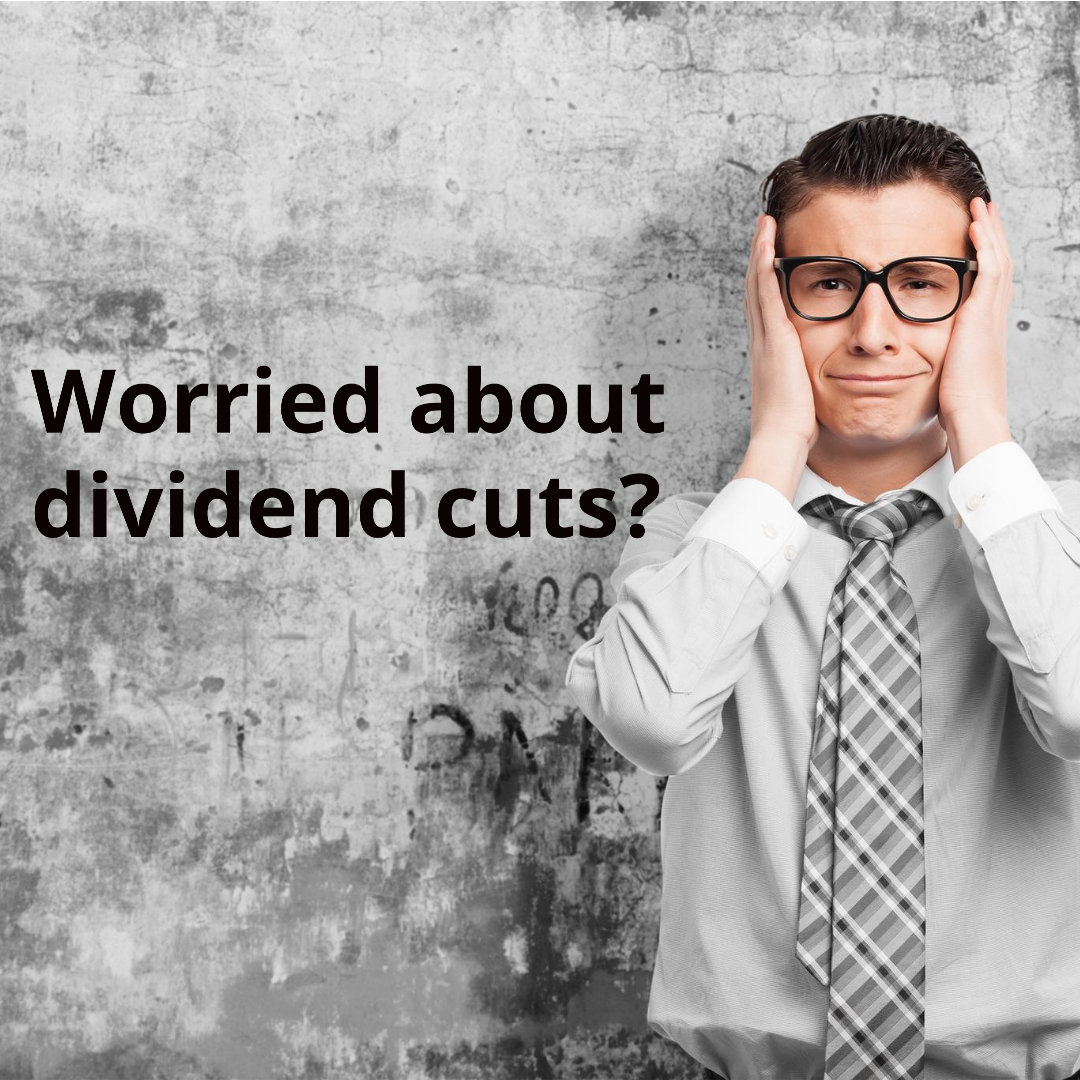 As a result of COVID-19, dividend cuts have been prominently discussed in the news last year (2020). Based on the headlines you would think that dividend investing is dead, but the reality is much different. Keep reading to get a better understanding of how you can continue to earn more this year and in the years to come.

What is a dividend?
A dividend is money that you receive from a company, just for owning their shares. For example, if a company is paying a $1/share dividend and you own 1000 shares, you will receive $1000 for as long as you own those shares and as long as the company continues to pay the dividend. The dividend gets deposited automatically into your trading account, you can spend the dividend if you wish or re-invest it into more dividend paying stocks.
Dividend cuts

If a company reduces its dividend you will earn less dividend income from that company. If a company eliminates its dividend, you will receive zero dividend income. This year the news headlines have been scary, and portraying dividend investing as futile, have a look at these recent headlines:

Daimler cuts its dividend to lowest in a decade (Fortune: February 11, 2020)
Dividend cuts may mean rethinking your retirement income strategy (CNBC: July 16, 2020)
Here are 8 companies that cut or suspended their dividends this month in coronavirus fallout (Business Insider: April 27, 2020)
BP halves dividend after suffering huge losses (BBC News: August 4, 2020)
More firms cancel dividends as market sell-off continues (The Guardian: March 23, 2020)
Looming Dividend Cuts Show Why Equity Income Investors Need To Think Beyond Yield (Sharecafe: July 2, 2020)
Global Dividend Payouts Could Plunge by Nearly $500 Billion in 2020 As Coronavirus Hammers Corporate Profits (The Street: May 18, 2020)
Companies weigh dividend cuts, suspensions ahead of earnings amid pandemic (CTV News: April 21, 2020)
Ford dividend cut a sign of more coronavirus troubles ahead (Detroit Free Press: March 19, 2020)
Companies Are Suspending Dividends at Fastest Pace in Years (The Wall Street Journal: April 28, 2020)
From the above headlines you would naturally assume that dividend cuts have been widespread, and that your dividend income will be much less this year, that would be true if you purchased mutual funds, index funds, ETFs, or stocks without first applying the
12 Rules of Simply Investing
. You see, funds (mutual/index/ETF) own hundreds and thousands of stocks, and most likely you will see a decrease in your dividend income, because you will own companies that have cut their dividends this year. However if you applied the
12 Rules of Simply Investing
and specifically hand-picked quality stocks, you will most probably see an increase in your dividend income for two reasons:
You did not violate Simply Investing Rule #4.

Quality companies have not only continued to pay dividends this year but they also increased their dividends.
Do not violate Simply Investing Rule #4
Rule #4 states that you should only invest in companies that are recession proof. Recession proof companies have continued do to well this year, but non-recession proof companies like Boeing, GM, and Ford eliminated their dividends this year. Had you applied the
12 Rules of Simply Investing
you never would have invested in Boeing, GM, or Ford in the first place.
Quality companies
Quality companies are companies that pass the 12 Rules of Simply Investing. Have a look at the recent dividend increases this year: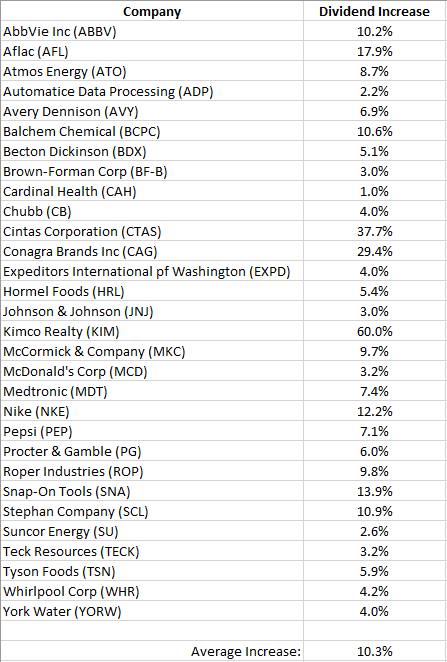 As you can see the average dividend increase is 10.3%, and that's during a world-wide pandemic!  Has your salary increased by 10.3% this year?
Of the 245 stocks tracked in the
SI Report
, from January 2020 to December 2020, 88% of the companies either maintained their dividend or increased their dividend. Only 15 stocks out of 245 eliminated their dividends, and a number of those 15 companies have stated that this is only a temporary stop to their dividend payments.
How do you have any confidence in dividends?

No one can predict which companies will decrease or increase their dividend in the future. Therefore how do you have any confidence in building an income generating portfolio? The answer lies in looking to the past, take a look at the history of dividend increases from the following companies: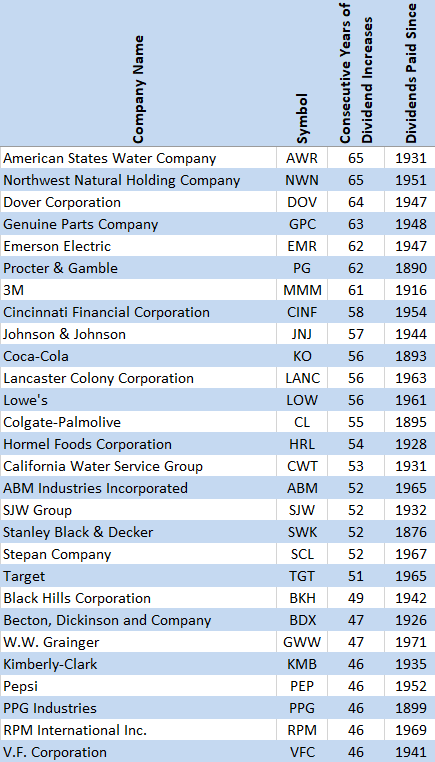 A dividend increase equals more money in your pocket. Think about the number of recessions and market downturns we've had in the last 40, 50, 60 years, yet companies like the ones listed above have continued to increase their dividends each year, this should give you the confidence to invest in dividend paying stocks.

Is financial freedom possible with dividends?
Yes, financial freedom is possible with dividends. By starting to invest early you can build a portfolio of stocks that will provide you with growing passive income each year. The dividends will eventually cover your living expenses, without dividends you are only hoping for the stock price to go up. But, hope will not cover your living expenses only dividends can do that.
Should I just go out and immediately invest in dividend stocks?
I'm here to help
I can help you to start investing today, why re-invent the wheel when you can learn from my 20-years of being in the stock market. I've witnessed first hand the ups and downs of the market, and I know what it's like to start investing your hard earned money. I created the 12 Rule of Simply Investing to help you get started right away, so you don't have to wait on the sidelines any longer. The sooner you start investing the sooner you will be on your path to financial freedom.
Did you enjoy reading this article? If so, I encourage you to sign up for my newsletter and have these articles delivered via email once a month … for free!