490,409% Return? Who is this man?
Which American corporation has had an overall gain of 490,409% from 1964 to 2010 and who is this man in the picture? The company is Berkshire Hathaway and it is owned by the man shown in the picture, Warren Buffett. In 2011 Warren Buffett was ranked the third wealthiest person in the world.
Buffett was born in Omaha, Nebraska in 1930. Born to middle class parents, Buffett never inherited large sums of money or won the lottery. While studying for his business degree at the University of Nebraska, he read a book on investing called the "Intelligent Investor" by Columbia University professor Benjamin Graham. Buffett was so passionate about the concepts in the book that he applied to Columbia University so that he could study under Graham. Benjamin Graham went on to become not only Buffett's teacher but his mentor and friend. Buffett worked for Graham for 2 years, then at the age of 61 Graham decided to retire and Buffett returned to Omaha.
In 1956 and the age of 25, Buffett began a partnership with seven limited partners with a total sum of $105,000, Buffett invested $100 of his own money. By 1965 the partnership's assets had grown to $26 million. In 1969 Buffett decided to end the investment partnership and everyone received their proportional interests.
"Stocks are simple. All you do is buy shares in a great business for less than the business is intrinsically worth, with management of the highest integrity and ability. Then you own those shares forever."
– Warren Buffett
Buffet then decided to use his proceeds to invest in a textile company called Berkshire Hathaway, at the time it was worth $22 million. Today Berkshire Hathaway has a market cap of $188.06 billion. This extraordinary growth is a result of Buffett being able to intelligently invest in quality companies when they are undervalued. This has made Buffett one of the most successful investors of all time, and his mentor Benjamin Graham is considered the grandfather of value investing.
Below is a copy of the first page from the 2010 Berkshire Hathaway Annual Report. The numbers in brackets () represent negative returns. Since 1964 Berkshire has had 2 negative years compared with 11 negative years of the stock market during the same period.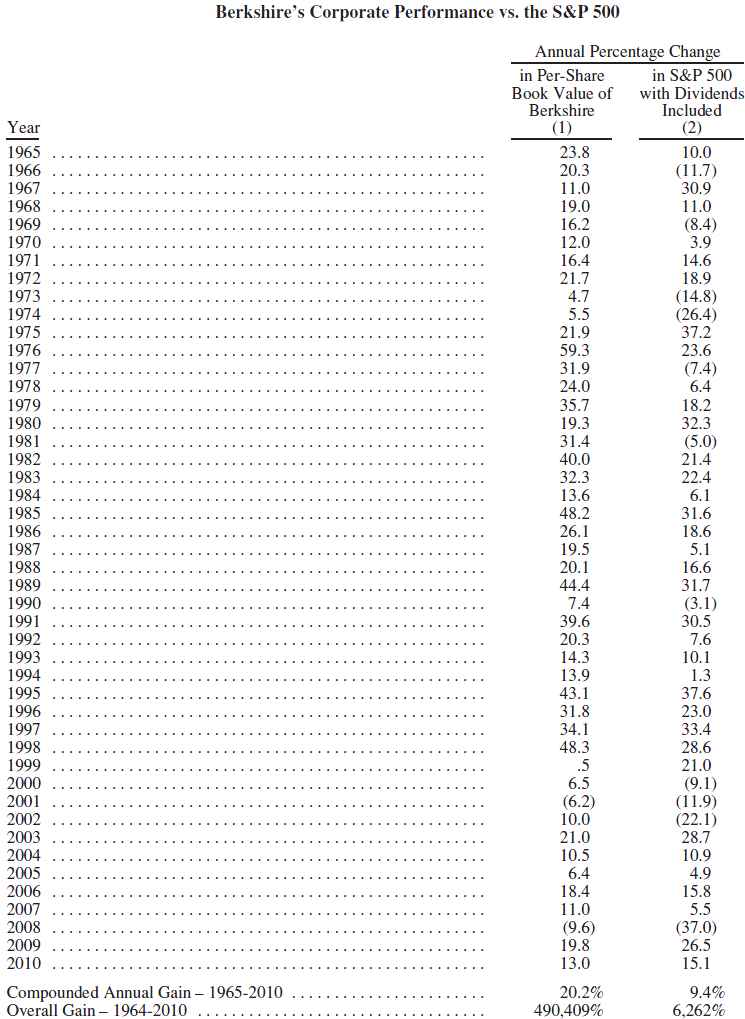 Warren Buffett continues to be successful because he has the patience to ride out market downturns and the discipline to stick to his strategy no matter what. You can do the same, avoid getting greedy when prices rise and fearful when prices decline. Your patience and discipline will be rewarded, and we can show you how to get there.
Did you enjoy reading this article? If so, I encourage you to sign up for my newsletter and have these articles delivered via e-mail once a month…and it's free!
Photo Courtesy of WikiPedia Performance Table Courtesy of 2010 Berkshire Hathaway Annual Report