Do dividends really matter?
Do dividends really matter? At first, dividends may seem inconsequential ($0.05/share or $0.12/share) but over time dividend increases put more money in your pocket, and reduce the risk to your hard earned savings.
What is a dividend
Quick reminder: A dividend is a payment (share of profits) made to you from the company just for being a shareholder. For example if a company is paying a dividend of $1/share, and you own 1000 shares, you will receive $1000 every year for as long as you own those shares and as long as the company continues to pay the $1/share dividend. You can choose to save your dividends, spend them, or re-invest them into more dividend-paying stocks.
Make more money
Every dividend increase adds more money to your pocket:
Johnson & Johnson has had 56 years of consecutive dividend increases
Coca-Cola has had 55 years of consecutive dividend increases
Colgate-Palmolive has had 54 years of consecutive dividend increases
There are dozens and dozens of examples of companies that have been increasing dividends consecutively for more than 35 years.
Increase your returns
Dividends increase your returns and minimize your losses. Have a look at a few of my holdings and see for yourself the impact of dividends on my returns: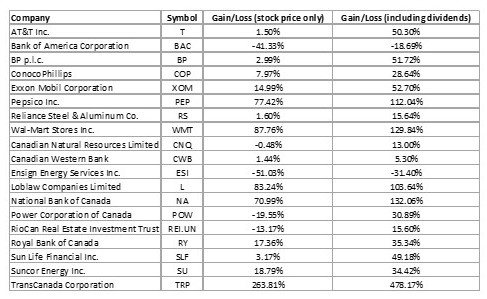 Dividends have allowed me to reverse my losses (CNQ from -0.48% to 13% return), and magnify my gains (AT&T from 1.5% to 50.3%). This approach takes time, because you have to allow the dividend increases to compound over many years, hold on to your quality stocks that are also dividend growers.
Create your own stream of GROWING passive income
Focus on buying quality dividend paying stocks when they are priced low (undervalued). Your passive income will grow when you re-invest your dividends, and you invest in companies that have a history of increasing their dividends.
Start today
Start today to build your own stream of growing passive income, and I can show you how. I created the 12 Rules of Simply Investing to help you get started right away, and start earning more passive income for yourself.
Did you enjoy reading this article? If so, I encourage you to sign up for my newsletter and have these articles delivered via e-mail once a month…and it's free!